Goal
The UK is committed to reaching net zero greenhouse gas emissions by the year 2050. Climate Assembly UK brought together 100+ people from all walks of life and of all shades of opinion to discuss how the UK should meet this target.
Main Topic
Clean energy: supplying clean, affordable and secure energy
All Topics
Clean energy: supplying clean, affordable and secure energy
Responsible and circular economy: mobilizing industry for a clean and circular economy
Renovating homes: building and renovating in an energy- and resource-efficient way
Mobility futures: accelerating the shift to sustainable and smart mobility
Sustainable food: from "farm to fork": a fair, healthy and environmentally-friendly food system
Financing the transition (i.e. it facilitates and/or stimulates public and private investments needed for the transition to a climate-neutral, green, competitive and inclusive economy)
Fostering a just transition: leaving no one behind (fostering i.e. inclusivity, equity, empowerment of marginalized communities or other goals regarding justice)
Actions
Providing knowledge transfer / advisory / education services
Aims
Socio-political aims: changing governance arrangements, different power structures, citizen participation and others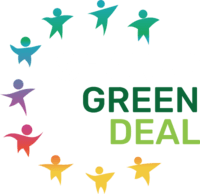 CONTACT
For further details please contact co-leads Dr Chris Foulds (chris.foulds@aru.ac.uk) and Dr Rosie Robison (rosie.robison@aru.ac.uk).
This project has received funding from the European Union's Horizon 2020 research and innovation program under grant agreement No 101036640. The sole responsibility for the content of this website lies with the SHARED GREEN DEAL HAS project and does not necessarily reflect the opinion of the European Union.