Name
Centre for Alternative Technology
Goal
CAT is an educational charity dedicated to researching and communicating positive solutions for environmental change. Find out more about what we do and how you can get involved.
Main Topic
Renovating homes: building and renovating in an energy- and resource-efficient way
All Topics
Clean energy: supplying clean, affordable and secure energy
Renovating homes: building and renovating in an energy- and resource-efficient way
Biodiversity: preserving and restoring ecosystems and biodiversity
Zero pollution ambition for a toxic-free environment
Fostering a just transition: leaving no one behind (fostering i.e. inclusivity, equity, empowerment of marginalized communities or other goals regarding justice)
Scale
Regional (e.g. a province, including multiple cities)
Actors
Community-based initiative (i.e. citizens, cooperative, neighbourhood group)
Non-profit organisation (i.e. pursues a particular social cause, e.g. schools, foundations, social movement)
Social enterprise (i.e. for-profit company, but has primary objective to achieve social and/or ecological benefits)
Actions
Providing knowledge transfer / advisory / education services
Aims
Socio-cultural aims: changing acceptance, behaviour, social norms, networks, traditions or contributing to knowledge build-up
Socio-technical aims: changing technology, such as infrastructures, material or tangible innovation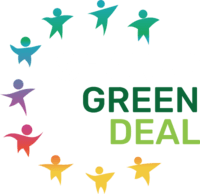 CONTACT
For further details please contact co-leads Dr Chris Foulds (chris.foulds@aru.ac.uk) and Dr Rosie Robison (rosie.robison@aru.ac.uk).
This project has received funding from the European Union's Horizon 2020 research and innovation program under grant agreement No 101036640. The sole responsibility for the content of this website lies with the SHARED GREEN DEAL HAS project and does not necessarily reflect the opinion of the European Union.