Name
Bugging Danmark- Urban Cricket farm
Goal
Bugging Danmark's mission is to gently introduce edible insects as an integral part of our culinary and cultural everyday life. They wish to empower communities to take the challenges of sustainable development into their own hands.
Main Topic
Biodiversity: preserving and restoring ecosystems and biodiversity
All Topics
Responsible and circular economy: mobilizing industry for a clean and circular economy
Sustainable food: from "farm to fork": a fair, healthy and environmentally-friendly food system
Biodiversity: preserving and restoring ecosystems and biodiversity
Scale
Neighbourhood or local community
City and peri-urban
Actors
Community-based initiative (i.e. citizens, cooperative, neighbourhood group)
Non-profit organisation (i.e. pursues a particular social cause, e.g. schools, foundations, social movement)
Social enterprise (i.e. for-profit company, but has primary objective to achieve social and/or ecological benefits)
Actions
Raising awareness and/or political agenda-setting
Aims
Socio-cultural aims: changing acceptance, behaviour, social norms, networks, traditions or contributing to knowledge build-up
Socio-economic aims: changing business models, market structures and economic systems
Socio-technical aims: changing technology, such as infrastructures, material or tangible innovation
Socio-ecological aims: changing ecological practices, such as rewilding, regenerative or nature-based solutions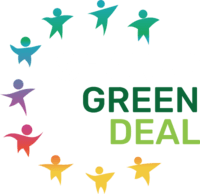 CONTACT
For further details please contact co-leads Dr Chris Foulds (chris.foulds@aru.ac.uk) and Dr Rosie Robison (rosie.robison@aru.ac.uk).
This project has received funding from the European Union's Horizon 2020 research and innovation program under grant agreement No 101036640. The sole responsibility for the content of this website lies with the SHARED GREEN DEAL HAS project and does not necessarily reflect the opinion of the European Union.