Name
BeMed: The Cyprus Responsible Coastal Businesses Network against Single-Use Plastics
country
Republic of Cyprus
Goal
Awareness-raising of key stakeholders who contribute to, are affected by and are responsible for taking decisions regarding the usage of single-use plastics, particularly coastal businesses and local authorities, as well as the general public. Promote the need to reduce the use of single-use plastics, presenting their detrimental effects on the marine environment and offering a solution oriented campaign (as presented in following points (2) and (3). Collection and dissemination of best practices for the reduction of single-use plastics through synergistic, novel and practical solutions to the problem. Collaboration of the key stakeholders will be encouraged and recorded. Expansion of civic engagement through capacity building and skills development in conscious single-use plastic usage, in order to have a societal level change (i.e. coastal business owners, beachgoers, local authorities, students) in regards with the latest proposed EU Directive which aims to reduce marine litter.
Main Topic
Zero pollution ambition for a toxic-free environment
All Topics
Zero pollution ambition for a toxic-free environment
Fostering a just transition: leaving no one behind (fostering i.e. inclusivity, equity, empowerment of marginalized communities or other goals regarding justice)
Scale
Neighbourhood or Local community
City and peri-urban
Regional (e.g. a province, including multiple cities)
National
Actors
Non-profit organisation (i.e. pursues a particular social cause, e.g. schools, foundations, social movement)
Main Activity
Showcasing and/or demonstrating practices;
Activities
Providing knowledge transfer / advisory / education services
Raising awareness and/or political agenda-setting
Facilitating dialogue and networking
Showcasing and/or demonstrating practices
Source
This initiative was provided by the SGD consortium.
This initiative is self-reported and not identified by the SHARED GREEN DEAL Consortium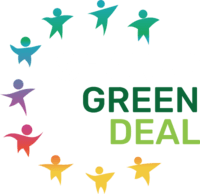 CONTACT
For further details please contact co-leads Dr Chris Foulds (chris.foulds@aru.ac.uk) and Dr Rosie Robison (rosie.robison@aru.ac.uk).
This project has received funding from the European Union's Horizon 2020 research and innovation program under grant agreement No 101036640. The sole responsibility for the content of this website lies with the SHARED GREEN DEAL HAS project and does not necessarily reflect the opinion of the European Union.