Goal
[translated] BauertothePeople (B2P) is an independent platform that brings together all the people along the food value chain closer together again. We want to make it possible to talk to each other, so that we have to talk less about each other. We counteract the process of alienation with new opportunities for encounters. The foundation of our work is the trust in the integrity of our approach. B2P creates spaces for dialogue and moderates it. "We bring people together". B2P gathers the diverse perspectives of different people and organizations. "We provide answers by asking questions". B2P is OPEN SOURCE. Our digital content is accessible and available free of charge to all people.
Main Topic
Sustainable food: from "farm to fork"; a fair, healthy and environmentally-friendly food system
All Topics
Sustainable food: from "farm to fork": a fair, healthy and environmentally-friendly food system
Biodiversity: preserving and restoring ecosystems and biodiversity
Actors
Social enterprise (i.e. for-profit company, but has primary objective to achieve social and/or ecological benefits)
Main Activity
Facilitating dialogue and networking;
Activities
Providing knowledge transfer / advisory / education services
Raising awareness and/or political agenda-setting
Facilitating dialogue and networking
Source
This initiative was provided by the SGD consortium.
This initiative is self-reported and not identified by the SHARED GREEN DEAL Consortium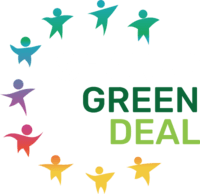 CONTACT
For further details please contact co-leads Dr Chris Foulds (chris.foulds@aru.ac.uk) and Dr Rosie Robison (rosie.robison@aru.ac.uk).
This project has received funding from the European Union's Horizon 2020 research and innovation program under grant agreement No 101036640. The sole responsibility for the content of this website lies with the SHARED GREEN DEAL HAS project and does not necessarily reflect the opinion of the European Union.