Name
Associação Terra Sintrópica
Goal
Associação Terra Sintrópica is located in Mértola, a town in southeastern Alentejo with a semi-arid climate and high vulnerability to desertification and climate change. It is a region with a dry climate, with high summer temperatures and one of the regions most affected by drought in all of Europe, an aspect severely aggravated by all climate scenarios. With these conditions, it is not surprising that Mértola is among the regions of Europe most susceptible to desertification. The vulnerability described above, induces severe limitations not only to agricultural activity, but also to other economic activities, such as tourism, which is affected by climatic comfort, which leads to high economic weakness that accelerates migration and depopulation. This vicious circle of resource degradation and depopulation is difficult to break. And it is with this conjecture that the Associação Terra Sintrópica was born in November 2018. Despite these climatic limitations or perhaps because of its existence, Mértola is also a territory of resilience, creativity and high social capital. Values ​​intrinsic to this association that tries to transform these weaknesses into strengths and make this territory a territory-experience for new solutions. Projects include a Nursery and Garden of Forgotten Varieties - horticultural varieties, herbaceous perennials, fruit trees and medicinal herbs used in the territory of Al-Andalus, including native species or species that have been introduced and disseminated since the Islamic period - and Forest Gardens - promotion of vegetable gardens in schools, according to the principles of syntropic agriculture, with the aim of promoting regenerative productive practices and a greater connection between future consumers and agroecological production.
Main Topic
Sustainable food: from "farm to fork"; a fair, healthy and environmentally-friendly food system
All Topics
Sustainable food: from "farm to fork": a fair, healthy and environmentally-friendly food system
Biodiversity: preserving and restoring ecosystems and biodiversity
Increasing the EU's climate policy ambition for 2030 and 2050
Fostering a just transition: leaving no one behind (fostering i.e. inclusivity, equity, empowerment of marginalized communities or other goals regarding justice)
Actors
Non-profit organisation (i.e. pursues a particular social cause, e.g. schools, foundations, social movement)
Main Activity
Facilitating dialogue and networking
Source
This initiative was provided by the SGD consortium.
This initiative is self-reported and not identified by the SHARED GREEN DEAL Consortium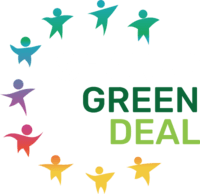 CONTACT
For further details please contact co-leads Dr Chris Foulds (chris.foulds@aru.ac.uk) and Dr Rosie Robison (rosie.robison@aru.ac.uk).
This project has received funding from the European Union's Horizon 2020 research and innovation program under grant agreement No 101036640. The sole responsibility for the content of this website lies with the SHARED GREEN DEAL HAS project and does not necessarily reflect the opinion of the European Union.